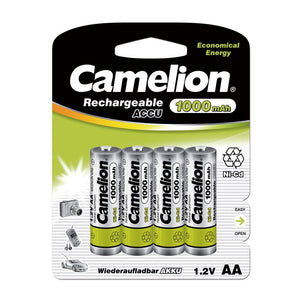 Camelion Rechargeable Battery NC-AA 1000mAh (piece of 4)
Rs. 250.00

Rs. 250.00

Save Rs. 45
Tax included.
Shipping
calculated at checkout.
---
---
Product description:
1000mAh batteries are always ready to use a battery.
Besat rechargeable batteries for average power electronics applications.
1.2 V AA batteries can be used 1000 of multiple times of recharge.

These batteries are most optimal for and will provide a better experience.

It gives the best performance in a wide range of devices.
Best batteries for Trimmers, Torch lights, 

Digital cameras, Flashes, LED torch light, battery-powered toys, radio control, Games Controllers, Battery operated Toys, etc..,

You can easily carry your essential devices with rechargeable batteries.
Batteries are thoroughly checked and environment friendly.
Camelion Rechargeable Battery NC-AA 1000mAh (piece of 4)
---
We Also Recommend
---